Disney is a magical place to visit but for all you Disney lovers out there you can also find out how to work for Disney from home! Working from home is a great way to earn money without the typical 9-5 schedule and why not work for a company you are passionate about.
For all of you Disney lovers out there who dream of working for Disney there are so many different ways you can work for Disney from home. No matter what your skill set there is probably a work from home job here that will be a good match for you and show you how you can work for Disney from home too. For more ideas on how to work for Disney from home you can also visit our Pinterest board.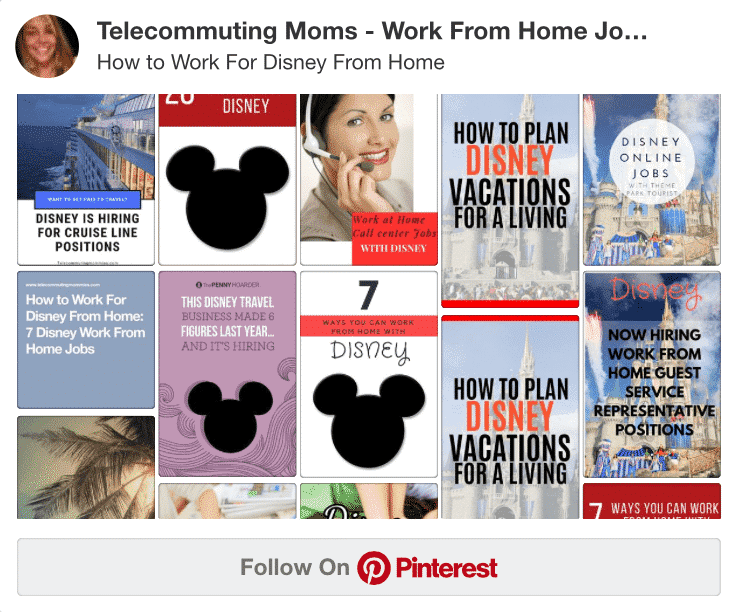 Before going through the list below consider your skill set as well as your strengths and weaknesses. Some of these jobs are writing jobs where you will need to be a strong writer. Others are more customer service oriented where you will be talking to customers over the phone. This is great for people that love having that daily interaction with others but might not be the best fit for those moms with young children at home as you need to have a quiet background.
If you are passionate about Disney vacations there are many Disney endorsed vacation planning companies where you can sell and help plan Disney vacations for others. If you want the flexibility of a work from home job but do not really want to be stuck in one place there are a couple of digital nomad type positions as well where you can travel and work remotely.
20 Options For How To Work For Disney From Home
With all of these different options on how to work for Disney from home surely there is a perfect remote job for every Disney lover out there.
This post may contain affiliate links but I only share work from home information I believe valuable to my readers.
As always feel free to email me with any questions you have regarding these positions!
Alaina
Grab Your Free Copy of my Ebook
"Top 7 Legitimate Work from Home Jobs"
as a thank you for subscribing to the Telecommuting Moms newsletter.